Alarm Suite
Back to Products
Powerful and Simple Alarm Management
AlarmSuite is a companion product for Wonderware SCADA systems. Its purpose is to notify operators of alarms and forward their acknowledgements back to the SCADA system.
Simple
Setup is as simple as importing the alarm structure from the SCADA, defining a list of operators, including their contact method (SMS, email or Android app) and then creating as many alarm plans as required.
Powerful
Alarm plans are associated with the imported alarm areas. They define the alarm escalation rules, the days and time of day the alarms are reported and the priority/severity of alarms that are reported in the plan. Multiple plans for any area can be created. This allows different operators to be notified on different days or at different times. High priority alarms can be handled differently from lower priority alarms. Plans can be configured to report alarms in associated child areas. This allows a user to create a single plan for an entire site if they so desire by creating a plan for the topmost alarm area and enabling child reporting for that plan. Entire areas can be prevented from alarming, or if thatís too broad, individual alarms can be disabled if needed.
The AlarmSuite V6 Brochure can be found here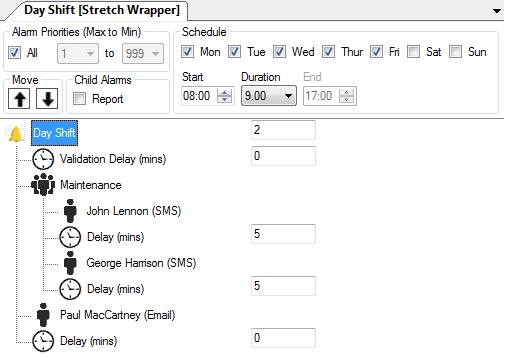 Back to Products